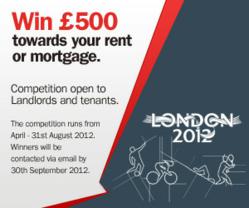 (PRWEB UK) 6 July 2012
The competition will run until 31st August 2012 and the winner will be notified on the 30th September 2012. Those wishing to enter can submit their details by visiting lettingaproperty.com.
In line with the Olympic Event, lettingaproperty.com is approaching a milestone of their own. They will be celebrating four years of working alongside more than 4,500 UK landlords and are quickly approaching 1.75 million property searches from Tenants on their website.
Founder of lettingaproperty.com, Jonathan Daines, comments…'We are extremely proud of our achievements in creating an online letting service that benefits both private Landlords and Tenants. A couple of these benefits include lower costs to the private landlord as opposed to the High Street Agent and real time tenant enquiries where landlords can arrange to show their property to a potential tenant almost immediately. It's not uncommon to have a property advertised online, receive an enquiry, carry out a viewing and let the property on the same day. Our business has grown year on year on the feedback we have received from our Landlords and Tenants and it's only fitting we celebrate this success by giving something back in the way of this competition.'
It would seem Landlords in London are going for gold in the run up to London 2012. Every type of accommodation from rooms, mansions, boats, caravans, tents and even converted warehouses are being advertised to welcome visitors attending the games.
A South Kensington house, albeit with 7 bedrooms, a chef, a chauffeur, a housekeeper and even a security guard will set you back