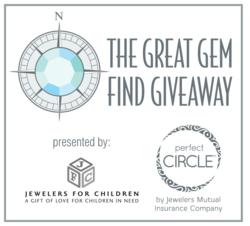 (PRWEB) August 20, 2012
Neenah, Wis. Jewelers Mutual Insurance Company along with its personal jewelry insurance brand, Perfect Circle Jewelry Insurance, partners with Jewelers for Children (http://www.JewelersforChildren.org) in a sweepstakes in which people explore http://www.PerfectCircleInsurance.com for a chance to win Radiance of Hope jewelry that supports children in need.
From Aug. 20 Sept. 21, 2012, the Great Gem Find Giveaway is promoted on the Perfect Circle Jewelry Insurance social media platforms including Facebook, Twitter and Pinterest with the opportunity to enter available exclusively on the Perfect Circle Jewelry Insurance website (http://www.PerfectCircleInsurance.com). To participate, visitors must find the gem icon which will be placed in a new location on the website each week during the sweepstakes period. Once the gem is found, participants must click it to reveal the entry page. Weekly clues to the gems whereabouts will be available on the Perfect Circle Jewelry Insurance Facebook page (http://www.facebook.com/perfectcircleinsurance). Every Friday, new winners are chosen and new jewelry prizes awarded.
Jewelers Mutual purchased the Radiance of Hope jewelry prizes to support Jewelers for Children and their mission to help children whose lives have been affected by illness, abuse or neglect.
We are thrilled that Jewelers Mutual Insurance Company is including Jewelers for Children in the Great Gem Find sweepstakes, said David Rocha, executive director for Jewelers for Children. The exposure the charity will receive from the work that Jewelers Mutual and its Perfect Circle Jewelry Insurance brand is doing is invaluable, and confirms the commitment the company has to JFC [Jewelers for Children] and helping us meet our mission of helping children in need.
The Radiance of Hope jewelry is made of soft mesh and filled with brilliant Czech crystals. Some prizes also include a sterling silver, micropave handset colored-stone bead.
People will be so taken by the beauty of the Radiance of Hope jewelry collection that theyll not only want to win an item through our sweepstakes, but be driven to purchase additional pieces knowing they will be benefiting children who desperately need a helping hand, said Patrick Drummond, vice president of Sales and Marketing for Jewelers Mutual Insurance Company.
Each year, Jewelers Mutual actively supports Jewelers for Children and their goals to unite the generous charitable giving efforts of the jewelry industry and raise money for their charity partners such as St. Jude Children's Research Hospital