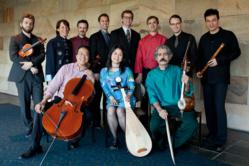 Boston, MA (PRWEB) May 17, 2012
Hailed by the Boston Globe as a kind of roving musical laboratory without walls, the international Silk Road Ensemble draws its members from countries as distant and diverse as China, India, Spain, South Korea, Iran, Japan, Switzerland, Israel, and the United States. With founder, artistic director and fellow Ensemble member Yo-Yo Ma, this eclectic group will gather at Tanglewood in Lenox, Massachusetts, to perform two concerts at Ozawa Hall on June 22 and 24, 2012. Performances begin at 8 p.m. on both evenings.
Returning to Tanglewood, for us, is like coming home, said Yo-Yo Ma. It was at Tanglewood 12 years ago that a group of musicians from around the world first came together to form the Silk Road Ensemble. Then we were strangers, and many of us had only the language of music in common. Over the years, weve returned several times to develop new music. So Tanglewood is, if you will, the Ensemble's birthplace, and it remains an inspiration for us.
On both evenings the Ensemble will perform internationally inspired music by composers Giovanni Sollima from Sicily (Taranta Project) and Sapo Perapaskero from Romania (Turceasca). Rounding out the program will be music composed by performing members of the Ensemble: Shristi by Sandeep Das from India, who plays tabla; Mui