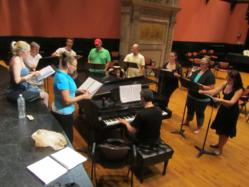 Philadelphia, PA (PRWEB) July 11, 2011
Russian Opera Workshop will present free public concerts of Tchaikovsky's last opera Iolanta. All concerts start on July 25, 2011 with Iolanta lecture by composer Daron Hagen (Video: http://youtu.be/xqiHNTB4x6U) and a Russian Romances concert that introduces all singers. Iolanta concert performances are on July 26, 27 and 28. All events start at 7:30 PM at the Helen Corning Warden Theater at the Academy of Vocal Arts, 1920 Spruce Street in Philadelphia. Free admission. No tickets required.
Russian Imperial Theater commissioned Tchaikovsky to compose a double bill including The Nutcracker ballet and opera Iolanta. The company specifically requested The Nutcracker ballet while Tchaikovsky himself picked Iolanta based on The King Rene's Daughter by a Danish playwright Henrik Hertz. Both works premiered in 1892 at the Mariinsky Theatre in St. Petersburg.
"While Tchaikovsky was in New York to conduct the opening of Carnegie Hall in 1891, he continued to work on his double bill commission," commented Ghenady Meirson, the Russian Opera Workshop founder. (Video: http://youtu.be/XqKgU6ihKOE) "His brother Modest was the librettist and based on their correspondence, the composer was anxiously awaiting the Russian translation of the Herz's play."
THE ARTISTS
Ben Wager, Michael J. Davis – King Ren