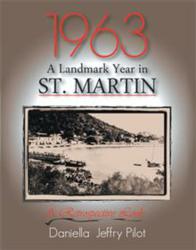 Miami, FL (PRWEB) August 23, 2012
The year 1963 can be considered as the beginning of tourism development on the island of St. Martin and, therefore, the transition year between an agricultural, rural economy and a commercial, tourist-oriented economy. The 37-square mile French/Dutch Island with English-speaking natives began its transformation into modernity with the electrification of the greater part of the island and the construction of the first terminal of the Princess Juliana International Airport during that year. Many islanders left their gardens and grounds to work in the construction field, in the stores and hotels, which opened that year.
In 1963-A Landmark Year in St. Martin, author Daniella Jeffry Pilot offers readers a retrospective look at how the island of St. Martin has evolved beginning in the year of 1963. As the development increased, numerous immigrants from the close neighboring islands came in search of work, and waves of St. Martiners who had migrated to then prosperous Caribbean islands returned to their homeland to fill the new positions in the first banks, business administrations, and governmental offices. The festive, gentle way of life of the natives harmoniously blended with the burgeoning new economy, and greatly contributed to the success of the tourism industry, which made St. Martin one of the top Caribbean destinations. Its attractiveness derived not only from the unique beauty of its combined pond and hill sceneries, but also from the warm hospitality and friendliness of the natives.
For more information on this book, interested parties may log on to http://www.Xlibris.com.
About the Author

Daniella Jeffry Pilot was born on the Caribbean island of St. Martin in 1941. Her primary and high school education was received in Basse-Terre, Guadeloupe. She graduated from the prestigious University of Paris-Sorbonne with a Bachelor of Arts with major in the teaching of English and obtained a Masters Certificate at the University of Tananarive in Madagascar, where she taught English at a Senior High School for nine years. On her return to St. Martin in 1974, she taught French at the Vocational School, then English at the Coll